Check out some of these great photos that were sent to us!  

Bigfoot Kids Scavenger 

Hunt Winners 2017! 

Photos of recent Bigfoot activity on Draper Tower Rd!  April 2018.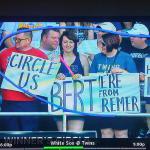 The Ruyak family in NYC! Shout out to Home Of Bigfoot!!

HARVEST FESTIVAL 2018 - REDISCOVER REMER!

Bigfoot and the Garden Club ladies

Pictures from Bigfoot Days 2018 

- great day of fun!

pictures from Bigfoot Music Festival 2018 - what fun!